Last year,
team love of it

donned our wellies and hats and headed to Green Man festival, armed with a tiny pop up cinema and the world's greatest photo treasure hunt. 
Photo challenge: wellies!20-Aug-2010 06:52, FUJIFILM FinePix Z33WP, 3.7, 6.3mm, 0.009 sec, ISO 200
Despite torrential rain, festival goers braved the elements to come and photograph, laugh and play their way around the hunt. We had so much fun last year, that we've decided to do it again this year, and this time we'll be taking the fun even further….
So this year, we'll be making a triumphant return back to Green Man, armed with old tasks, new games and much much bigger umbrellas. Once again we'll be lurking in Einstein's Garden, amid fun and exciting science.
For a glimpse of what we got up to last year, check out this video…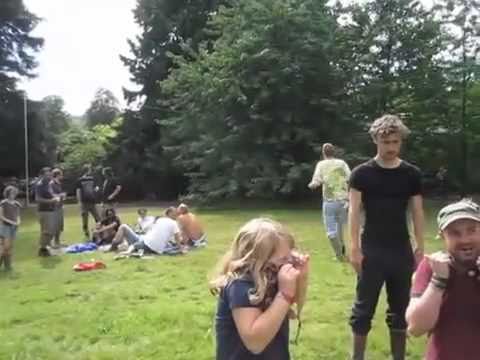 But as well as that, we'll be heading to Larmer Tree gardens with the treasure hunt in tow twice this summer. First for Larmer Tree festival in July, and then wrapping up the summer with End of the Road festival.
team love of it (aren't they lovely?)22-Aug-2010 13:17, NIKON CORPORATION NIKON D5000, 10.0, 22.0mm, 0.003 sec, ISO 200
To add to the fun at Larmer Tree and End of the Road, we'll also be taking along the team love of it big box of board games. At first glance, this may seem to contain games you're familiar with (scrabble, boggle, cluedo), but when you dig a bit deeper, you'll come across some unusual, obscure and down right unfathomable (Challenge Anneka?). Added to this, inspired by Hide and Seek's board game remix kit (you should buy it, it's great), we'll be twisting around, mixing up and generally playing with the rules of board game physics to bring you classic games like you've never played them before. Speed scrabble, voting scrabble and boggle poker shall all hopefully be making an appearance, alongside a few of our favourites from the remix kit.
All three are awesome festivals, and current levels of excitement in team love of it are going all the way up to 11. So come along for some festival fun, and don't forget to tell your friends! So, who's coming?
Photo challenge: how many feet off the ground?22-Aug-2010 12:01, Canon Canon EOS 5D, 11.0, 24.0mm, 0.004 sec, ISO 400