In
team love of it

, we are big fans of things that are fun. We also quite like things that are free. We hold a secret place in our heart for things that involve making a bit of a fool of yourself in the name of entertainment. And so when we heard that Team Para(dise) Glider Lost told us about their plans to take part in this years Flugtage, we got quite excited. So we asked them to write a series of articles for us in the run up to and splash down from their adventure.
So here  is Andy Billingham with Part 1: The History, the Crew and the Vision…
"Oh, I have slipped the surly bonds of earth, And danced the skies on laughter-silvered wings"
Or so John Magee would have you believe that's what flying a plane feels like.
(c) Daniel Grund/Red Bull Content Pool
(c) Daniel Grund/Red Bull Content Pool22-May-2010 16:20, Canon Canon EOS 7D, 6.3, 8.0mm, 0.001 sec, ISO 320
However, my best guess would be something a little more down to earth…with a bang.  Yes, it's that time of year where enthusiastic amateurs and professional nutters build wild, wacky and downright weird flying machines, its Red Bull's Flugtag! For those of you that have been have never heard of 'Flugtag' before, it literally means 'Fly day', and involves 30 teams building homemade gliders and launching themselves off of a 6 metre high pier and seeing who can make the biggest splash fly the furthest. Its origins date back to the halcyon days of 1991 with the first Flugtag event being held in Vienna, hosted by a series of intrepid Austrians, and was loosely inspired by the Birdman Rally, started in 1971.
Since then Red Bull has been held annually in 35 different countries drawing crowds of up to 90,000 people.  This year's UK event is being held in Roundhay Park, Leeds on 17th July.  Tickets are free, so if you want to join in and watch teams of idiots getting their flug on you can register for tickets here.
The event itself consists of 3 parts:
1. Design – team's must design and build the biggest, craziest and fun-est glider that they can think of.
2. Performance – before each flight every team must do a 30 second performance accompanied by music to try and whip the crowd up into a frenzy.
3. Distance – quite literally how far can you fly! Based on previous years examples this is perhaps one of the lowest scoring areas in the competition, most gliders end up having the aerodynamics of a chair, and as such plunge head first into the watery depths below.
How did I get started on this project, well me, being the lazy slob that I am, had been spending far too much time in front of the TV. It was a boring evening in front of the box and the program I was watching had cut to adverts and a hushed silence descended on my house. A beam of light shone down from the skies and illuminated the television, and the following advert came on.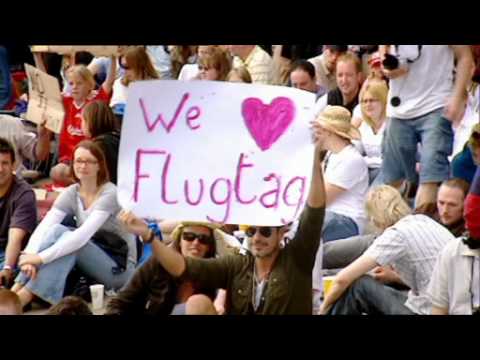 I had found my calling, my raison d'etre, I must design a glider and enter Flugtag 2011.  If I was a believer in hocus pocus it would be written in my stars, it would be in the tarot cards, the tea leaves, the crystal ball or any other divining method you choose.  But, divinity aside, the deadline for entry was May 13th, and it was already early May.
I gathered together the brightest minds the country had to offer (who were available at short notice and within my limited circle of friends) to begin brainstorming ideas for our craft.  The date was set, a big pot of chilli on the boil and the beers were in.  In attendance we had myself – Andy 'El Capitan' Billingham, Chris 'the artist' Lowe, Dave 'Engineer present by proxy' Morley and Nick 'the other guy' Bates-Mudie. Whoever said invention was '10% inspiration, 90% perspiration' was wrong; in our case it was '10% inspiration, 90% intoxication'.  The war-room was set up, which had an uncanny resemblance to my kitchen table, here plans were drawn up, discussed and discarded; ideas mooted included Transformers, the 'Up' house, a huge flying fish, Thunderbird 2 and a Buzz Lightyear, but nothing seemed to stand out.  We were dejected and aimless, we parted ways, and my dream of achieving flight was slipping through my fingers.  That night I had a vision, this was my road to Damascus.  My vision was of genesis (not Phil Collins' band), of eden, of good and evil, our craft would be ADAM & EVE.
To be continued… Red Bull Flugtag Part II – The Build, the Bodies and the Brilliance.
Click on the following for more information about Red Bull's Flugtag via their website and facebook page, and Team Para(dise) Glider Lost via their blog and facebook page. And if you have an adventure that you've been on, or are planning and would like to share it with the
love of it

community, send us an email here.